June 6, 2018
Need food inspiration for a multi-day backpacking trip for this summer? Don't look further! This 5-day menu will satisfy your taste buds while fueling your muscles for the all those hills to climb. None of these recipes requires the use of a dehydrator. You will only need to combine dry ingredients. Disclaimer: An effort was made to select recipes that are not too heavy, however ultralight backpackers might have to make modifications.
Note: This menu contains affiliate links. You can read my disclosure here.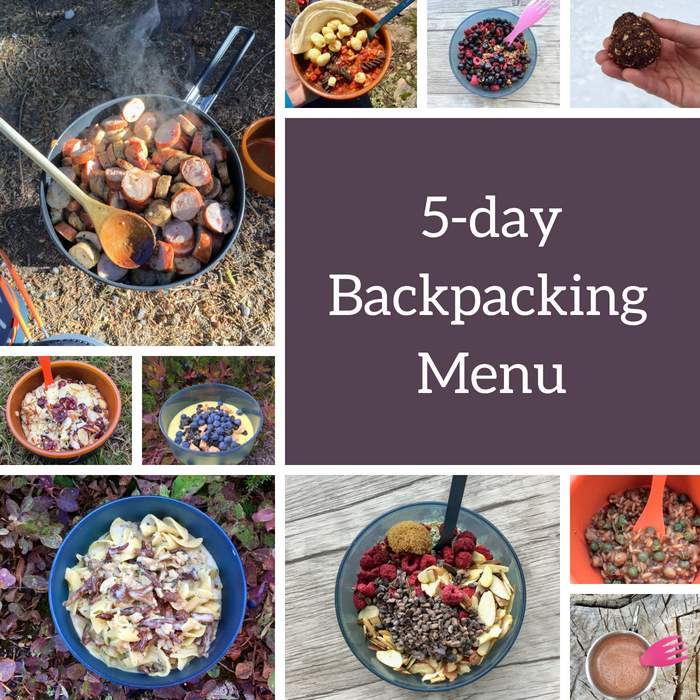 Day 1
Breakfast:
Have a balanced breakfast at home before leaving.
Lunch:
Your favorite ham and cheese sandwich prepared at home with a few pre-cut fresh veggies (enjoy, these are rare treats on the trail!)
Dinner:
Day 2
Breakfast:
Lunch:
Dinner:
Day 3
Breakfast:
Lunch:
Seasoned tuna in a foil package with a tortilla
Dinner:
Day 4
Breakfast:
Lunch:
Dinner:
Day 5
Breakfast:
Lunch:
Salmon jerky
Crackers
Dried fruits
Dinner:
Stop at a restaurant on your drive back!
Don't forget the snacks!
You can make your own snacks, which allow you flexibility in terms of serving size and flavors. Check out homemade snacks ideas. Many snacks can be purchased at the store, which save you time. Here are some ideas:
Mixed nuts
Trail mix
Granola bar
Roasted and seasoned chickpeas
Dried fruits
Fruit leathers
Enjoy!
By Gen Masson, MSc, RD, CD, CSSD, IOC Sport Nutr Dipl