4 servings
5 min prep, 5 min cooking
49.5 g / serving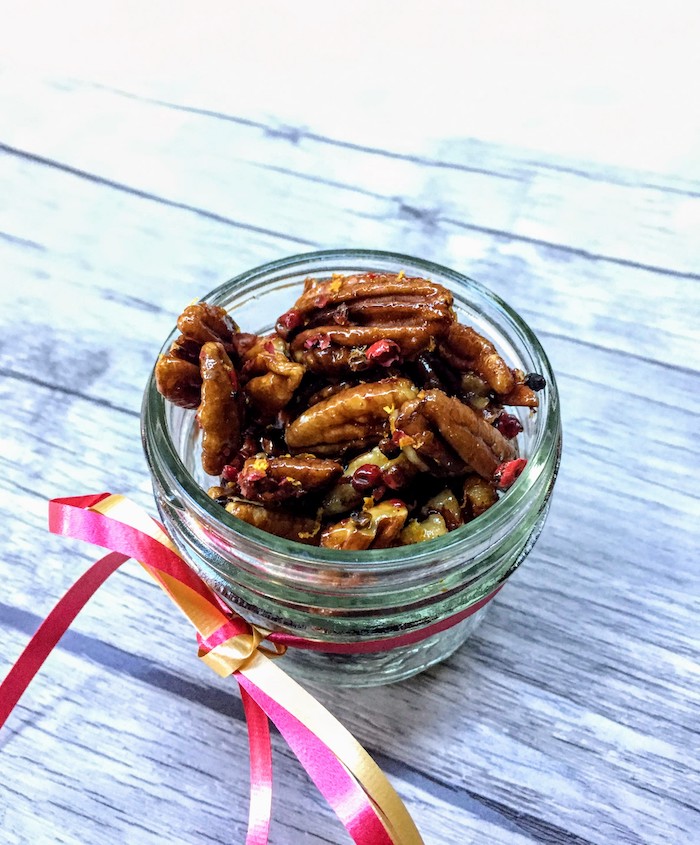 This spicy and sweet seasoning is so addictive! If you are able to refain from eating them all before heading to the outdoors, this snack made of nuts will provide energy during long low-intensity outdoor activities. They also make great gifts!
Ingredients
Note: This recipe contains affiliate links. You can read my disclosure here.
1 cup (250 ml) pecans (whole or halves)
1½ tbsp (22.5 ml) honey
1 tbsp (15 ml) pink peppercorns, slightly crushed
1 tsp. (5 ml) orange zest
1 pinch of salt
Preparation
In a bowl, mix orange zest and pink peppercorn. Set aside.
In a non-stick pan, mix the pecans and the honey over medium heat.
Stir continuously and remove the nuts from the heat after 2-3 minutes.
Sprinkle the salt over the nuts preparation.
Add the candied nuts to the bowl with the orange zest and the peppercorns and mix well.
Transfer the nuts on a parchment paper or a plate and separate them right away.
Let it cool down for about 15 minutes before storing it containers or bags.