10 servings
15 min prep, 12 min cooking
66.2g / serving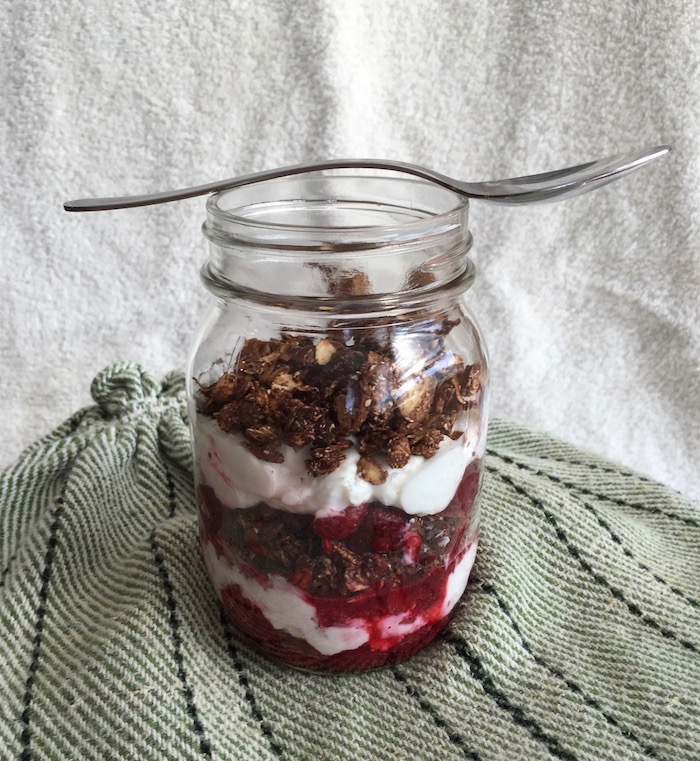 Are your breakfasts always the same and boring? Not anymore with this recipe of chocolate granola. Hey yes, a recipe with chocolate created by a dietitian for breakfast! And in extra, this granola is fortified in protein for long lasting satiety.
Each portion of 3⁄4 cup contains 9g of protein and is low in fat. Add Greek yogurt or cottage cheese and fruits (I chose frozen raspberry and cherries for this picture) to this granola to make a complete meal.
To be totally honest with you, this granola is not very sweet. If you have a sweet tooth, I suggest you add dried fruit and why not also chocolate chips to the cooled granola!?
Ingredients
3 cups (750 ml) old-fashioned oats
½ cup (125 ml) oat bran
¼ cup (60 ml) cocoa
½ cup (125 ml) milk powder
½ cup (125 ml) sliced almonds
½ cup (125 ml) sweetened coconut flakes
1 pinch of salt
3 egg whites
¼ cup (60 ml) honey
Preparation
In a large bowl, mix all the dry ingredients together.
In another bowl, mix the honey and the egg whites.
Add the liquid ingredients to the dry ones. Mix well.
Spread on 2 baking sheets previously covered with parchment paper and oil.
Bake in the oven at 375 F (190 °C) for 12 minutes.
When cooled down, break the large pieces into smaller ones and put in bags or containers for preservation.