12 balls
10 min prep, 10 min cooking
14 g / ball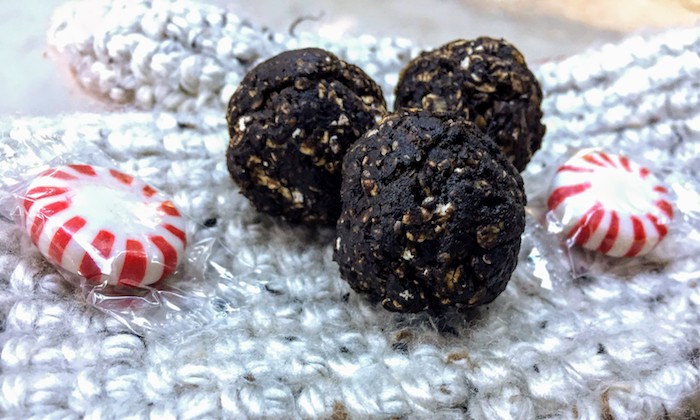 Sweet to perfection, these energy balls will remind you of the mint flavored chocolates often available on winter Holidays. Chia seeds bring a nice texture and an interesting amount of healthy fats (omega-3) while oats contribute to the consistence and will provide you with long-lasting energy.
Ingredients
½ cup (125 ml) chopped dates
⅓ cup (80 ml) water
½ cup (125 ml) quick oats
2 tbsp (30 ml) cocoa
2 tbsp (30 ml) chia seeds
½ tsp (2.5 ml) mint extract*
*Can be replaced by fresh or dried mint leaves. Adjust quantity to taste.
Preparation
In a small pot, bring dates and water to boil and let simmer for 10 minutes.
Let it cool down for a few minutes.
Add the other ingredients and mix well.
Roll into balls.
Pack for your next adventure!