26 servings
10 min prep, 20 min cooking
33.5 g / cookie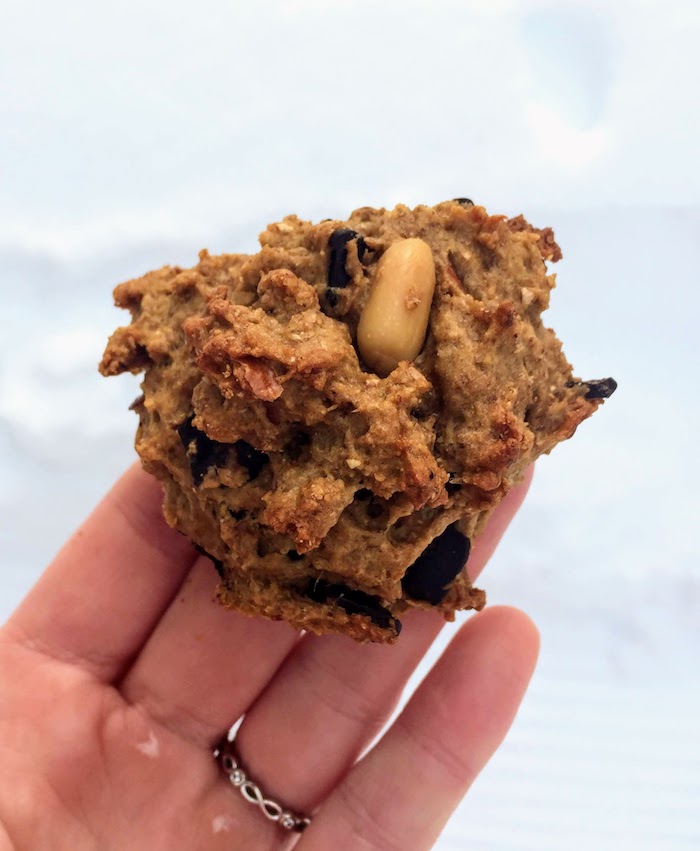 Do you have old bananas agonizing on your kitchen counter? If yes, this recipe will relieve their long wait! You add chocolate and PB: you have the perfect trio!
These bite-size cookies are perfect to fuel during winter or spring outdoor explorations. This recipe is made with whole wheat flour and flaxseed meal, which increases the fiber content to a reasonable 2g/cookie!
Ingredients
2 ripe bananas, mashed with a fork
1 egg
½ cup (125 ml) peanut butter
1 tbsp (15 ml) vanilla extract
⅓ cup (80 ml) brown sugar
½ tsp. (2.5 ml) baking powder
½ tsp. (2.5 ml) baking soda
4 tbsp. (60 ml) flaxseed meal
1½ cup (375 ml) whole-wheat flour
½ cup (125 ml) semi-sweet chocolate chips
½ cup (125 ml) peanuts
Preparation
In a large bowl, mix the banana, egg, peanut butter, vanilla extract and brown sugar. Mix well.
In a separate bowl, combine the baking powder, baking soda, flaxseed and flour.
Add the flour mix to the wet ingredients.
Incorporate the chocolate chips and the peanuts.
Drop cookie dough 1 tbsp. at a time onto the prepared cookie sheet.
Bake for 20 minutes at 375F (190C).
Tips
These cookies can be frozen individually. They will be ready to go on your way to your next adventure!