2 hungry backpackers
5 min prep, 15 min cooking
147 g / serving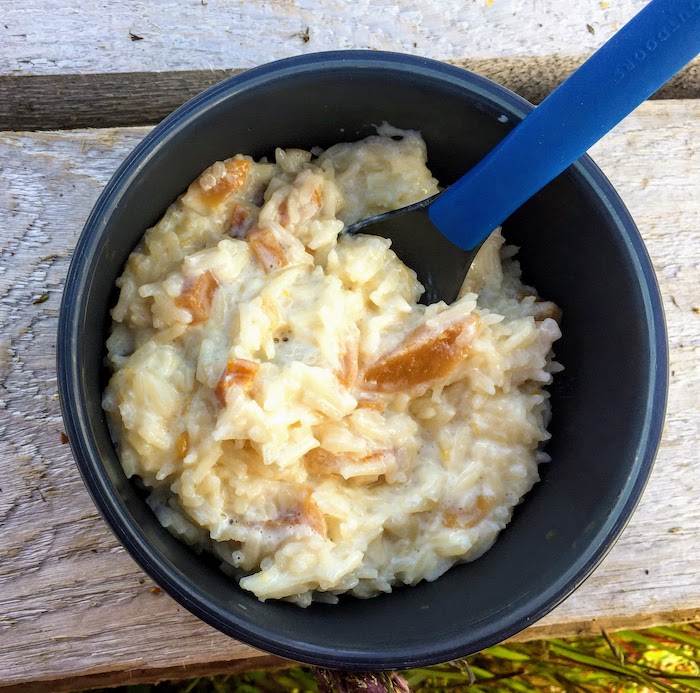 Rice for breakfast? Why not? This creamy and slightly sweetened rice pudding recipe is perfect for cold mornings in the backcountry. Complete this breakfast with a homemade hot chocolate or latte to boost the protein and calorie count.
Ingredients
Note: This recipe contains affiliate links. You can read my disclosure here.
¾ cup (175 ml) basmati or other long grain rice
½ cup (125 ml) unsweetened dried mangoes*
1 tbsp (15 ml) white sugar*
1 pinch of salt
⅔ cup (160 ml) skim milk powder
2 tbsp (30 ml) coconut milk powder
2 tbsp (30 ml) unsweetened coconut chips
*If using dried mangoes with added sugar, skip the white sugar.
Equipment
Stove + fuel
Pot large enough for 1 liters (4 cups)
Wooden spoon to mix
Bowl to eat (you could always eat directly in the pot, no judgement here!)
Spork or fork!
Before trip
Mix in plastic bag #1: rice, dried mangoes, sugar and salt.
Mix in plastic bag #2: skim milk powder, coconut milk powder and coconut chips.
At camp
Bring 2½ cups (625 ml) of water to boil with the content of bag #1.
When the water reaches the boiling point, reduce the heat and let simmer until the rice is fully cooked. Remove from heat.
Add the content of bag #2.
Mix well.
Enjoy!