1 hungry backpacker
5 min prep, overnight soak
187g / serving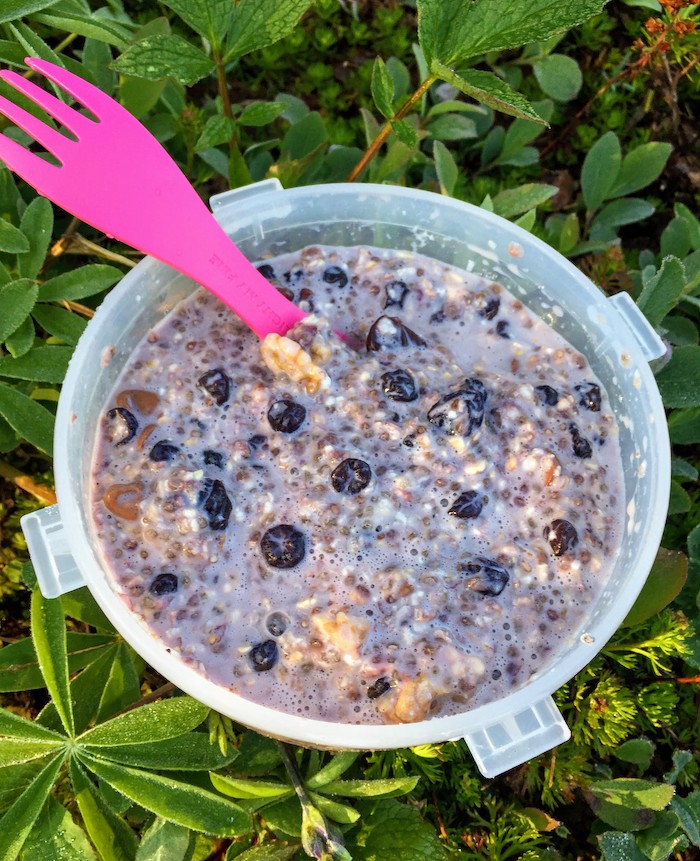 This overnight oat recipe is perfect to kick-start a long day of outdoor adventures, without having to use a stove. Just pour water over the oats mix the night before and let time makes its effect. Customize your overnight oats by switching up the dried fruits, nuts and flavors.
Ingredients
Note: This recipe contains affiliate links. You can read my disclosure here.
½ cup (125 ml) quick oats
3 tbsp. (45 ml) dried blueberries
3 tbsp. (45 ml) dried cherries
3 tbsp. (45 ml) chopped walnuts
1 tbsp. (15 ml) chia seeds
1 tbsp semi-sweet chocolate chips
4 tbsp. (60 ml) skim milk powder
Equipment
Container with twisting lid, big enough for 2 cups (Talenti jars and empty peanut butter jars work well)
sporks or forks!
Before trip
Mix in a plastic bag: mix all the ingredients, except for skim milk powder.
Pack skim milk powder separately.
At camp - Night before
Pour oat mix in the container.
Pour 1 cup of water over the dry ingredients, put the lid back on the container and shake it.
Let it soak overnight in a bearproof spot (bearvault, cache or other).
At camp - Morning
Add the skim milk powder and mix well.
Add more cold water if desired.
Enjoy!