2 hungry backpackers
5 min prep, 15 min cooking
245 g / serving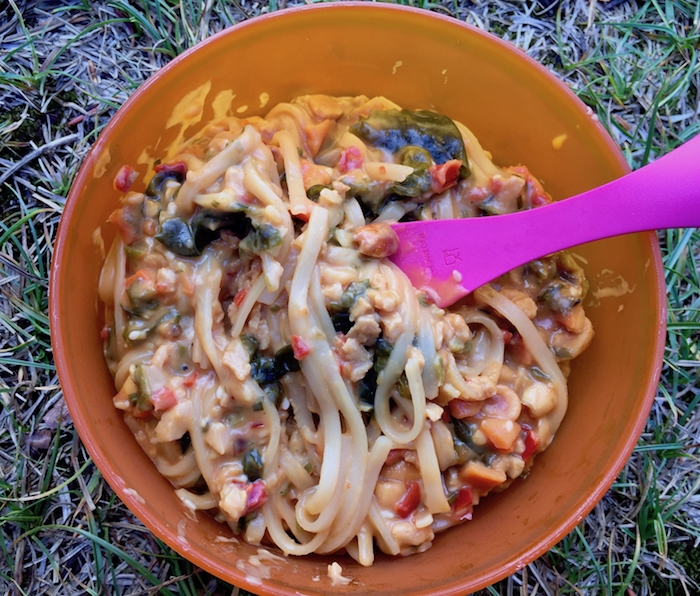 This recipe includes the peanut trio for real fans: chopped peanuts, real peanut butter and powdered peanut butter. Super high in protein and energy, this recipe will satisfy the most hungry backpacker. Enjoy!
Ingredients
Note: This recipe contains affiliate links. You can read my disclosure here.
Equipment
Stove + fuel
Pot large enough for 2 liters (8 cups)
Wooden spoon to mix
Bowls to eat (you could always eat directly in the pot, no judgement here!)
Sporks or forks!
Before trip
Mix in plastic bag #1: rice noodles, chives, carrots, bell peppers, TVP and wakame.
Mix in plastic bag #2: ginger, pepper flakes, powdered peanut butter, peanuts, brown and sugar.
At camp
Bring 4 cups (1 L) of water to boil.
Add the content of bag #1 and cook pasta until almost al dente. Do NOT drain.
Add the content of bag #2, soy sauce and the real peanut butter.
Mix well.
Enjoy!
*Made with soy, this product is available in most grocery stores and natural food stores.
**Wakame seaweed provides a nice flavor to this dish and interesting electrolytes.