1 hungry backpacker
5 min prep, 12 min cooking
288 g / serving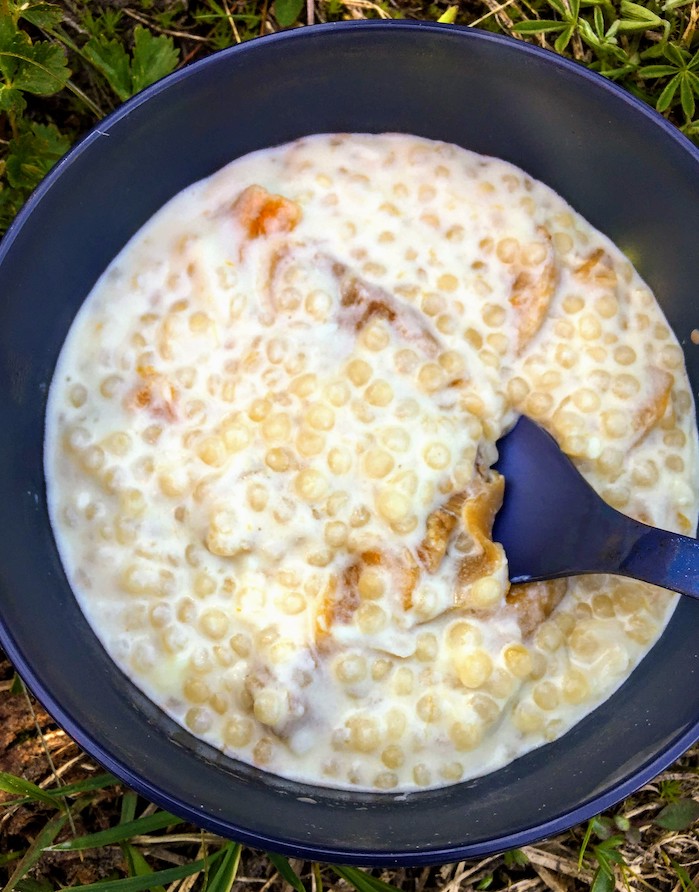 Ingredients
Note: This recipe contains affiliate links. You can read my disclosure here.
½ cup (125 ml) Pearl Couscous (also called "Israeli Couscous")
⅓ cup (80 ml) dried tropical fruits *
⅓ cup (80 ml) whole milk powder
1 tbsp (15 ml) sweetened coconut flakes
*I used a mix of pineapples and mangoes
Equipment
Stove + fuel
Pot large enough for 1.5 liters (6 cups)
Wooden spoon to mix
Bowl to eat (you could always eat directly in the pot, no judgement here!)
Spork or fork!
Before trip
Mix in plastic bag #1: couscous and dried fruits
Mix in plastic bag #2: whole milk powder and coconut flakes.
At camp
Bring 2 cups (500 ml) of water to boil.
Add the content of bag #1 and cook couscous until ready (about 10 minutes). Remove from heat.
Add the content of bag #2.
Mix well.
Enjoy!