2 hungry backpackers
5 min prep, 10 min cooking
141g / serving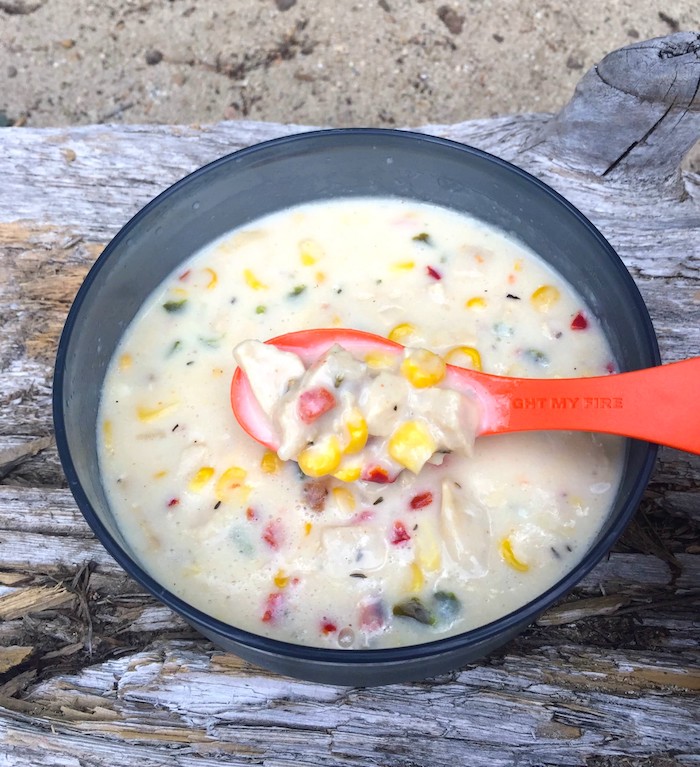 This chowder with southwest notes makes a consistent meal with 40g of protein per serving. Perfect to warm up on chilly evenings.
Ingredients
Note: This recipe contains affiliate links. You can read my disclosure here.
Equipment
Stove + fuel
Pot large enough for 2 liters (8 cups)
Wooden spoon to mix
Bowl to eat (you could always eat directly in the pot, no judgement here!)
sporks or spoons!
Before trip
Mix all the dry ingredients, except for the whole milk powder and the cornstarch in plastic bag #1.
Put the whole milk powder and the cornstarch in bag #1.
Pour ghee in a leakproof container.
At camp
Mix 4 cups (1 L) of water with the content of bag #1 in a pot.
Bring to boil, add the ghee and simmer for 5 minutes or until the chicken and the vegetables are rehydrated to your taste.
Add about ¼ cup (60 ml) of cold water to bag #2 and mix.
Add the content of bag #2 to the boiling soup.
Let it cook for a few more minutes while mixing with a spoon until the chowder thickens.
Enjoy!