2 hungry backpackers
5 min prep, 15 min cooking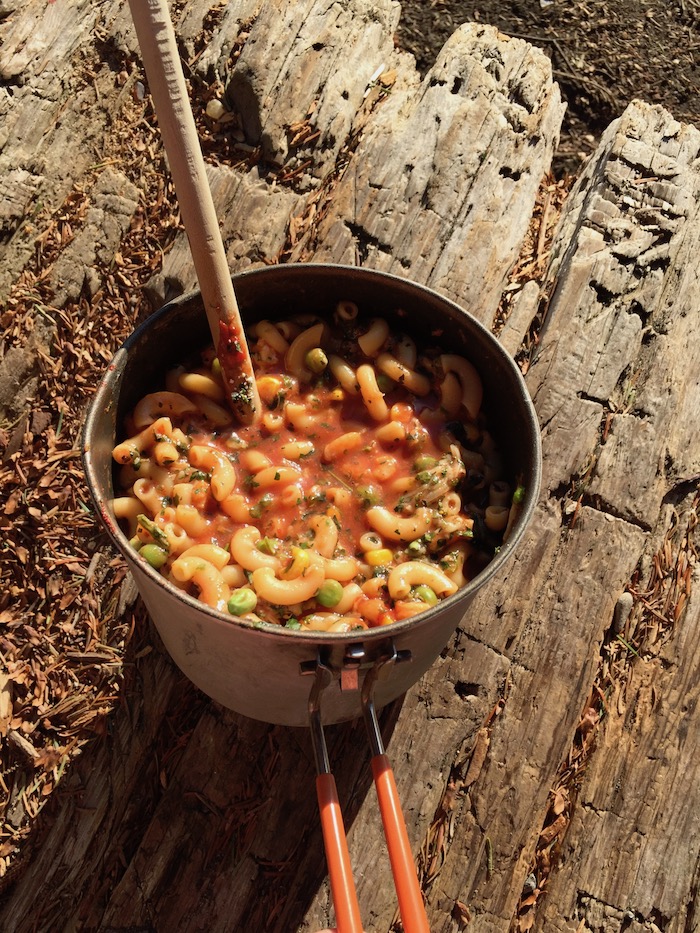 Ingredients
2 cups (500 ml) dry pasta (I used macaroni)
1 can (4 oz – 113g) of shrimp
1 can (6 oz – 170 g) of tomato paste (personally I took one with added herbs for extra flavor!)
3 tbsp (45 ml) powdered milk
½ cup Parmesan cheese
1 tsp (5 ml) dried herbs (I mixed oregano and basil)
⅔ cup (150 ml) dried vegetables (I used green peas, corn, tomatoes and spinach)
Equipment
Stove + fuel
Pot large enough for 2 liters (8 cups)
Wooden spoon to mix
Can opener
Bowls to eat (you could always eat directly in the pot, not judgement here!)
sporks or forks!
Before trip
Mix in plastic bag: powdered milk, Parmesan cheese, dried herbs and dried vegetables.
At camp
Bring 1 L (4 cups or the equivalent of a large Nalgene bottle) to boil.
Cook pasta until al dente. Do NOT drain.
Add tomato paste, shrimps (no need to drain the liquid from the can as this help to create the sauce) and the content of the plastic bag (parmesan, milk, herbs and vegetables).
Mix well and enjoy!