2 very hungry backpackers
5 min prep, 15 min cooking
426 g / serving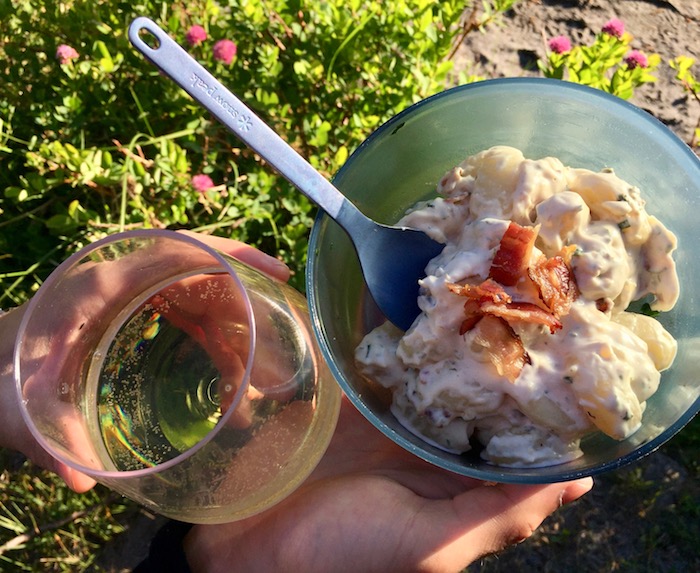 Rich in flavor (and in calories!), this recipe is perfect for these difficult overnight backpacking trips.
Ingredients
Note: This recipe contains affiliate links. You can read my disclosure here.
1 package of 17.6 oz (500g) gnocchi
3.25 oz. (92g) pre-cooked bacon
1 can 7.6 fl. oz. (225 ml) table cream (I used Table Cream by Nestlé)
2 tbsp. (30 ml) dried chives
1 tbsp. (15 ml) dried parsley
⅓ cup (80 ml) parmigiano reggiano, shredded
¼ tsp. (1 ml) salt
½ tsp. (2 ml) black pepper, grounded
Equipment
Stove + fuel
Pot large enough for 2 liters (8 cups)
Lightweight pan
Wooden spoon to mix
Knife or penknife
Bowls to eat (you could always eat directly in the pot, no judgement here!)
Sporks or forks!
Before trip
Mix in a plastic bag : dried chives, dried parsley, parmigiano reggiano, salt and black pepper.
At camp
Cut or shred the bacon in small pieces.
Sauté the bacon in the pan until it is a little crispy.
Bring about 1 L of water to boil.
Add the gnocchi.
Cook until gnocchi float on the water.
Drain.
Add to the pan with the bacon and sauté for a few minutes.
Add the cream and the parmigiano mix.
Mix well and enjoy!