1 very hungry backpacker
5 min prep, 10 min cooking
252 g / serving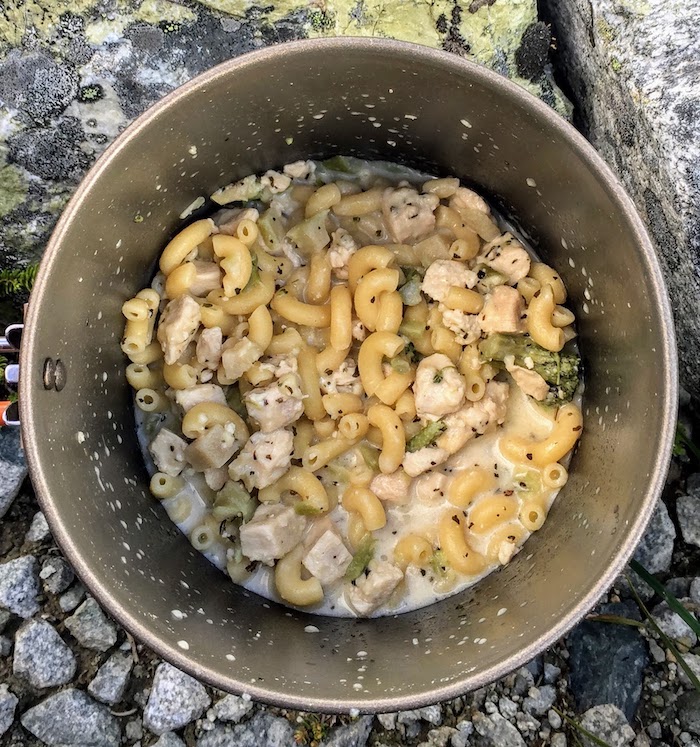 This high-calorie meal is perfect to refuel after a long day of adventuring. Tasty and filling, without being overly heavy. Try it and you'll adopt it!
Ingredients
Note: This recipe contains affiliate links. You can read my disclosure here.
¾ cup (175 ml) dry macaroni
½ cup (125 ml) freeze dried broccoli
¾ cup (175 ml) freeze dried chicken
⅓ cup (80 ml) shelf-stable shredded parmesan
3 tbsp (45 ml) heavy cream powder
½ tsp (2.5 ml) dried basil
¼ tsp garlic powder
1 pinch of freshly grounded black pepper
1 pinch of salt
2 tbsp (30 ml) ghee
Equipment
Stove + fuel
Pot large enough for 1.5 liters (6 cups)
Wooden spoon to mix
Bowls to eat (you could always eat directly in the pot, no judgement here!)
sporks or forks!
Before trip
Mix in plastic bag #1: macaroni, freeze-dried chicken and broccoli.
Mix in plastic bag #2: parmesan, heavy cream powder, basil, garlic powder, ground black pepper and salt.
Pack the ghee in a leakproof container.
At camp
Bring 2¼ cup (560 ml) of water to boil.
Pour content of bag #1.
Cook until pasta are al dente. Do NOT drain. Remove from heat.
Add the content of plastic bag #2 and ghee.
Mix well and enjoy!